The IT services market is developing by leaps and bounds, and sometimes it seems that there is no place for new players. And even if a startup does not plan to develop globally but chooses a specific direction, there is no guarantee of its success. It is even more difficult to get into a narrow niche, and even more so, to gain a foothold in it, as you must compete with powerful rivals, pioneers in the industry. It is a serious challenge for a startup, but for an SEO professional, it is quite possible to overcome. 
The Luxeo Team has proven that it is realistic to promote a narrow-market project from scratch to the coveted TOP even in limited time and resources. With a smart SEO strategy and a focus on commercial semantics, we managed to bring about 46 keywords to the TOP 10 and double the traffic. And all this was done in six months and with minimal SEO investments. 
In this case, we will share with you the most exciting moments of our path to success. 
Who is our client?
Elogic is a company that provides outsourcing services for developing online stores on the Magento platform.
Industry
Exchange cryptocurrency
Target region
USA, Europe, Asia
Goal
Bringing organic traffic
Timeline
April 2020 — February 2021
Result
organic traffic increased 20 times, 83 keywords in the top 30
The company provides complex outsourcing services in developing online stores on Magento: building and scaling ecommerce businesses, optimizing performance, support and maintenance, creating individual extensions, and data migration. 
The Elogic project targets:
B2C retailers;

representatives of B2B companies;

wholesale organizations;

owners of marketplaces.
Target audience location: Northern Europe, Italy, USA, UK, Australia.
Elogic approached the Luxeo Team at the end of March 2021 to help promote the website to get leads in the field of Magento development. The client wanted to break the vicious circle in which the project stuck after promotion by other SEOs: it managed to reach 5000 in organic and… that's all, the indicator did not rise anymore. That's why it was not only about achieving leadership positions but about maximizing relevant traffic.
The client was interested in receiving applications for cooperation from the business audience as early as possible. It would be companies wishing to develop in ecommerce. So, the client aimed to attract leads specifically in the main specialization, developing online stores with Magento. It was vital to enter the TOP for all possible commercial requests. 
Quantitative metrics before promotion (March 2021):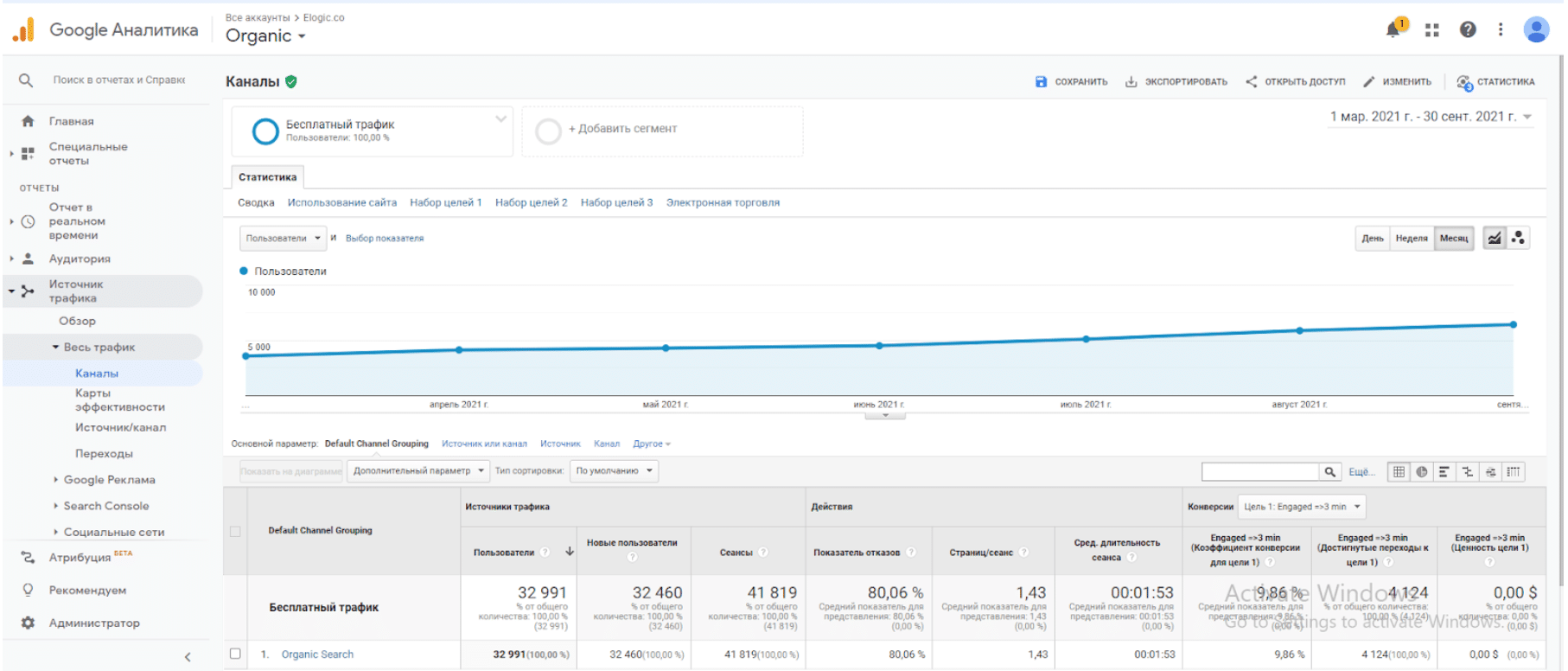 The goals, plans, and expectations of the client
Having impressive experience in IT, the client was well aware of all the difficulties of promotion in the niche (we will talk about them later) and adequately assessed all capabilities and prospects. A realistic view of things allowed us to quickly determine the goals and objectives to achieve without wasting time and money.
Priority goals and objectives:
bring the website to the TOP 10 in commercial semantics;

increase organic traffic by at least

40%

;

attract an audience from 5 target regions;

get powerful feedback from trading businesses.
Ideally, it was necessary to achieve the agreed results in a maximum of 6-8 months. Looking ahead, half a year was enough for us to exceed the planned indicators. However, of course, there were some obstacles.
Do you want to bring your website to the TOP 10 in 6 months? Check out our SEO promotion service, and you will see that it is real!
Check out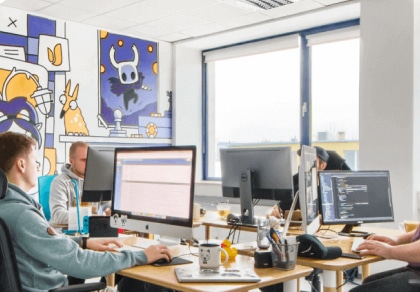 Check out
Let's be honest: getting to work, we knew that we would face numerous obstacles. It could not be otherwise because it was about promotion in a highly competitive niche.
dominance in the TOP of well-known IT companies from different countries;

limited budget for development in an expensive industry;

low customer awareness in the niche and on target GEOs;

the impact of low-quality websites on successful link building (we will cover this issue in more detail later)
For some startups, these problems become fatal, forcing them to give up at the beginning of the path. Several factors helped us to remove barriers:
client's understanding of the industry specifics and realistic view of SEO; 

clear goals and adequate plans, set and agreed at an early stage;

many years of experience of our team in the IT market and ecommerce development in particular:

using a flexible strategy and maintaining communication with the customer 24/7.
We managed to find a balance between potential problems and our own capabilities to overcome them, which was the beginning of fruitful work. In the meantime, let's talk briefly about our team, organizational issues, and the reasons for choosing an agile methodology.
Have promotion problems? Leave your contact info and get a detailed video analysis of your project for free! 
See example
Thanks for your application!
We will contact you to clarify the details and prepare a personal audit
A few words about the organization of the workflow
Team building is an important part of preparing for a project, on which both the quality and the speed of solving tasks depend. That's why we allocate time for selecting specialists with the appropriate knowledge and skills, as well as their acquaintance with the project. So it was in this case. 
A team of 4 specialists took on the project:
Project manager: delegation of tasks, control of implementation, identification of risks, and external communications. 

Team lead: coordinating the actions of the participants, providing recommendations and instructions.

SEO specialist: developing an SEO strategy, making changes to it, and tracking promotion progress.

Link builder: search for relevant and thematic platforms for placing links to the promoted website.
The joint work was organized according to the Agile methodology, dividing the process into 2-week sprints. Upon completion of each, we reported to the client on the tasks performed and the results achieved. We use this model in 90% of projects. Why? 
There are 3 good reasons for choosing Agile:
simple distribution of tasks, where every performer can focus on current problems;

providing the client with access to intermediate results and receiving feedback after each iteration;

prompt response to changes, whether in a competitive market or the client's plans for a project.
The work results were analyzed using the KPI model. To do this, we used our unique set of metrics and parameters to really assess the efficiency of promotion in a specific IT niche.
5 critical steps on the road to success
Step 1: location research and query clustering
Traditionally, we started our work with exploring the competitive market and searching for relevant queries. However, this turned out to be an atypical project: it required careful analysis in 2 large-scale areas: Magento and ecommerce. The most relevant queries to start from when working with semantics were magento development and ecommerce development. In addition, it was necessary to pay attention to the GEOs on which the client planned to promote. We identified relevant queries that corresponded to the client's main specialization and analyzed them in the context of the United States (states and cities) and the United Kingdom.
The main queries we considered in the analysis:
Magento Development
magento development company;

magento development services;

magento development agency;

magento development firm.
Ecommerce Development
ecommerce development company;

ecommerce development services;

ecommerce development agency;

ecommerce development firm.
As an example, here is the analysis of the "magento development company" for the US states:
Magento Development: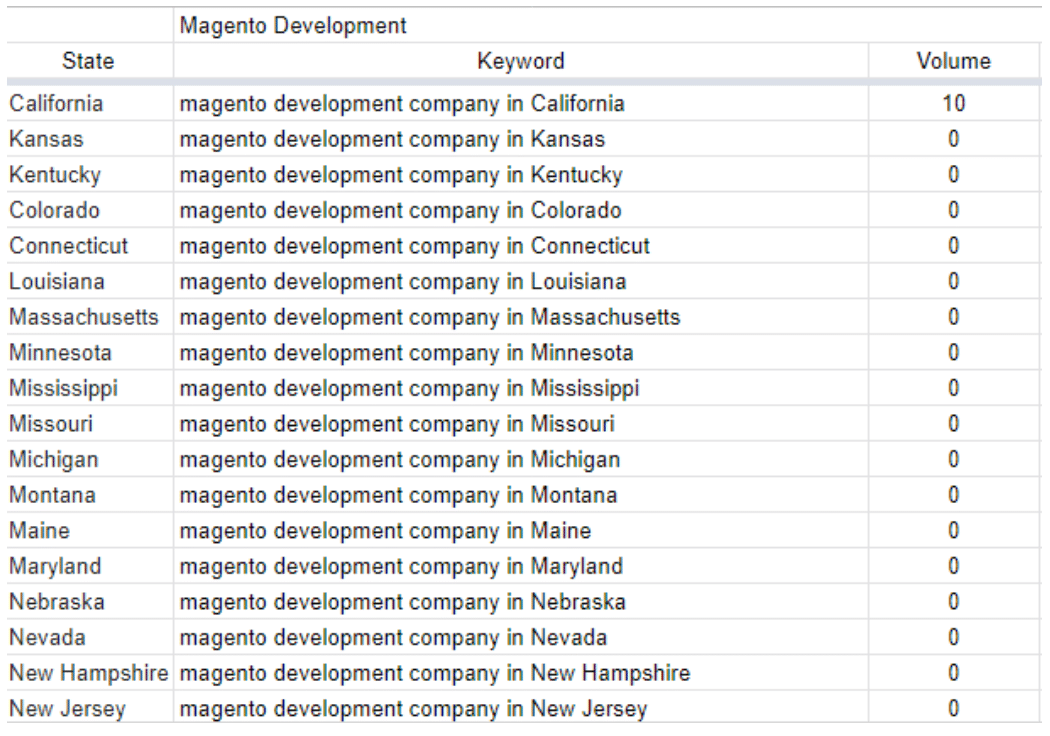 ecommerce Development: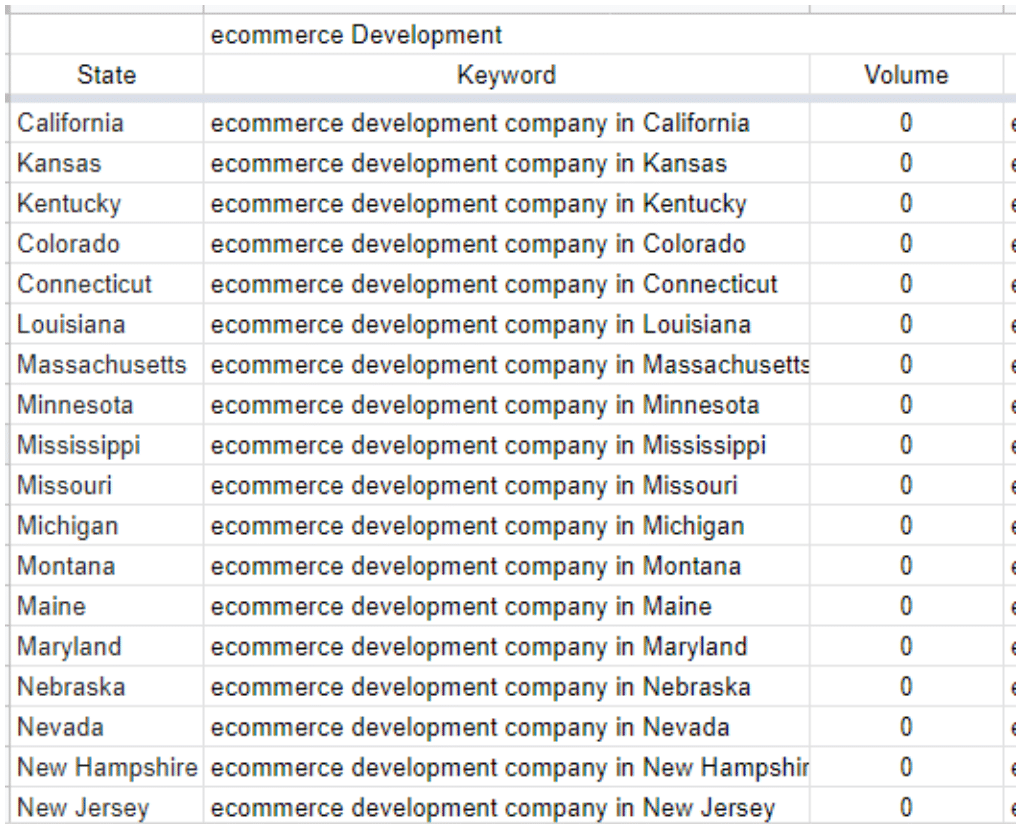 As a result of a comprehensive study, we identified several GEOs leading in the query frequency: 
Magento Development in: UK, Raleigh, New York, London, Indiana, California, Los Angeles, Boston, Birmingham.

eCommerce Development in: UK, New York, London, California, Los Angeles, Birmingham.
Final Research Report: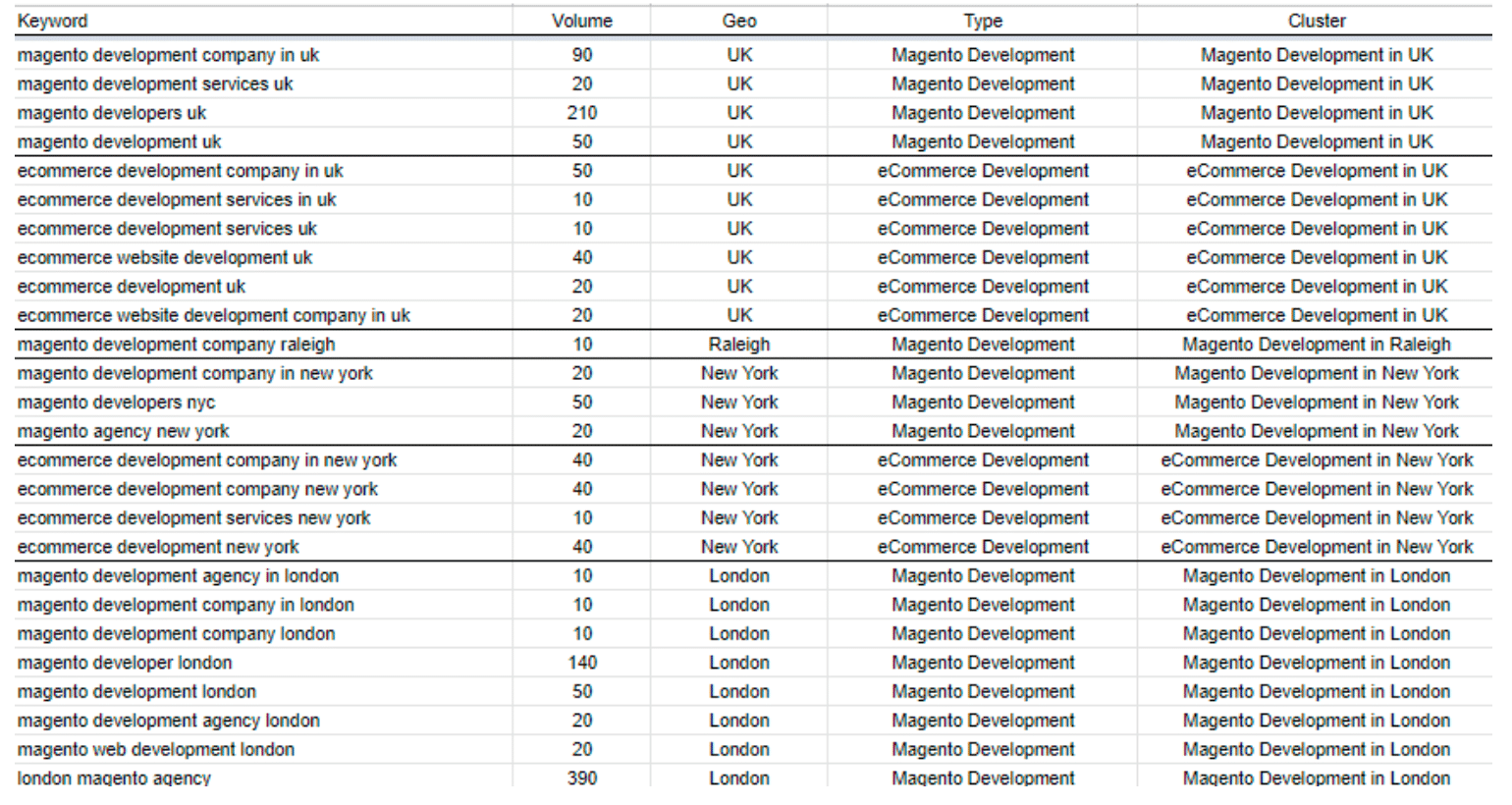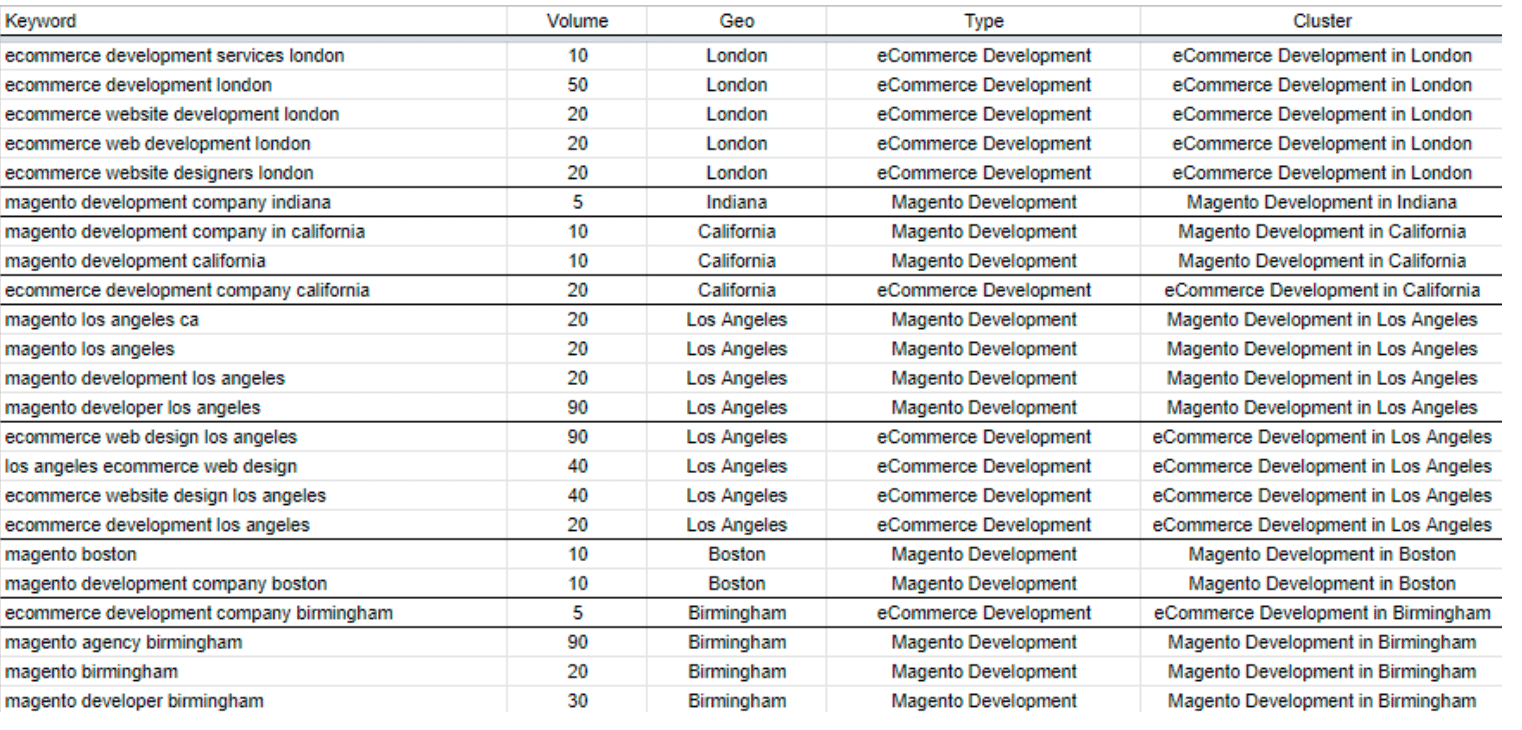 Step 2: Deep Learning of Commercial Semantics 
The market analysis helped us to understand queries to focus on dealing with a particular location. But then we had to delve into the commercial semantics and find additional relevant keywords used by the business audience looking for website development services.
We focused on the company's main specialization and related services: integration with platforms, code audit, web design, etc. Looking ahead, this approach allowed us to attract a broad audience: both startups and experienced ecommerce business people striving to scale. 
So, we once again confirmed that clustering and scoring are powerful SEO tools, and we know exactly how to use them correctly.
Here are some of the commercial queries we used to extend the semantic core:
WooCommerce to Magento Migration;

Shopify Plus development;

Magento 2 support and maintenance;

Magento integration services;

Hire Magento developer;

Magento code audit;

Magento web design company;

Ecommerce website design;

Magento PWA.
Integration Requests: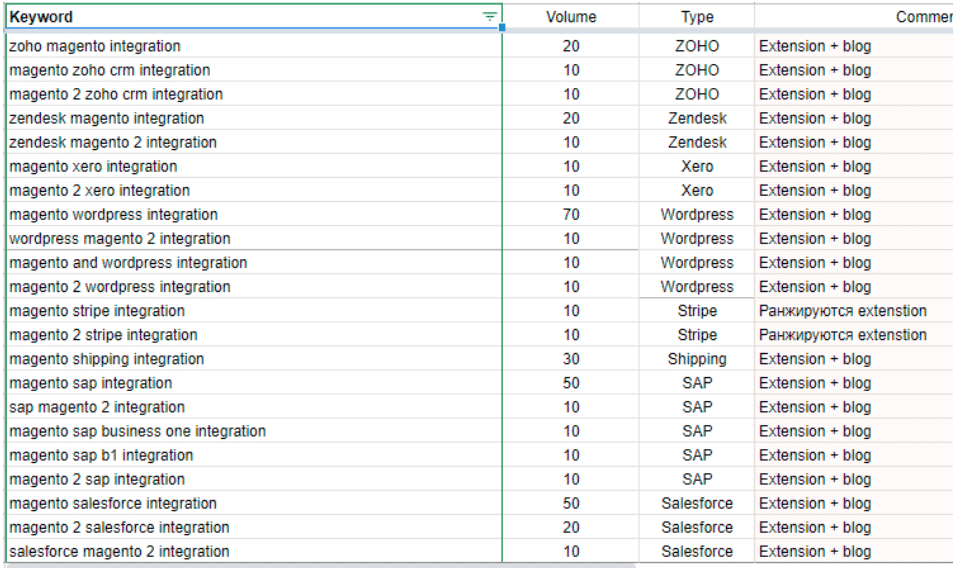 Commercial Semantic Core Report (example):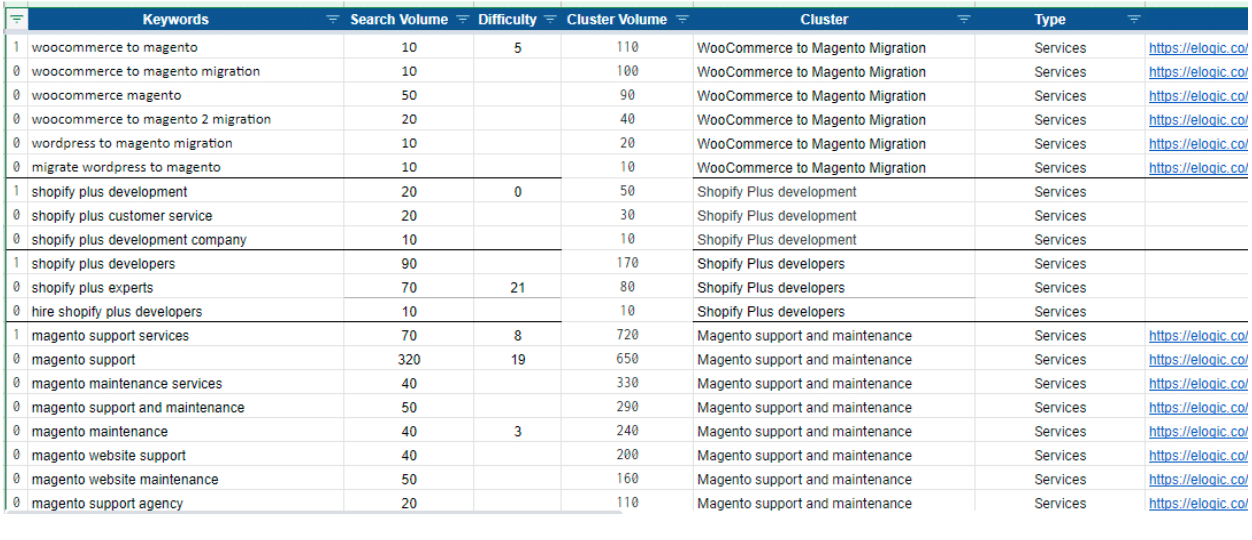 At this stage, we decided to explore target regions such as Germany, Spain, France, and Italy to expand the query list. For these GEOs, we formed and clustered the semantic core and identified priority promotion areas. Now we are happy to share some of the reports with you.
Research for Italy: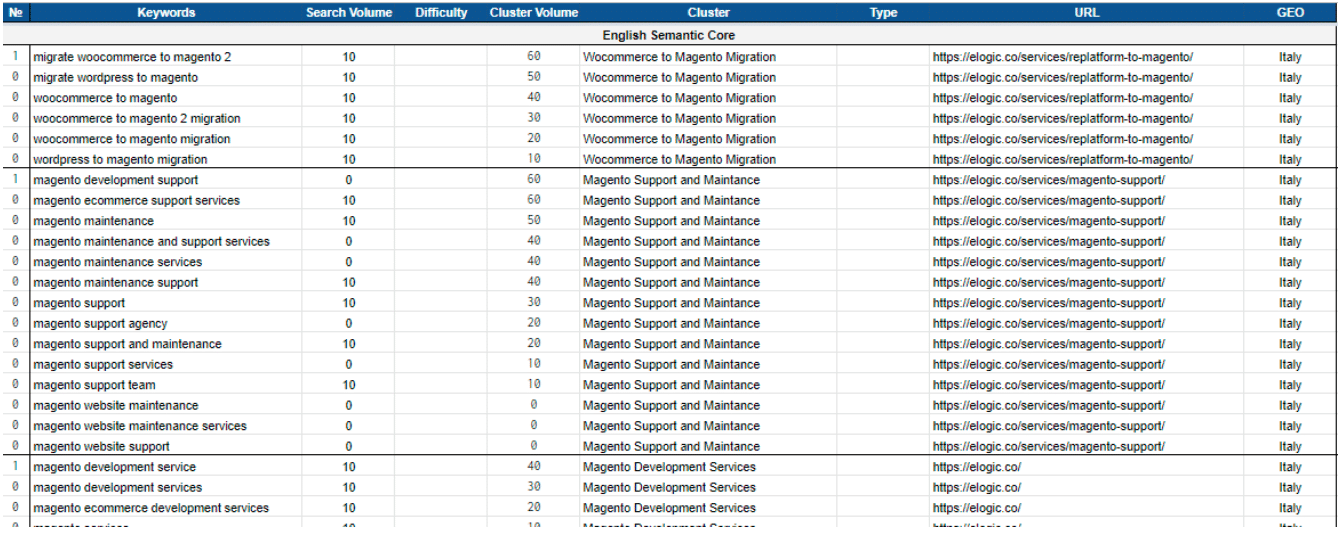 Research for DE, ES, FR: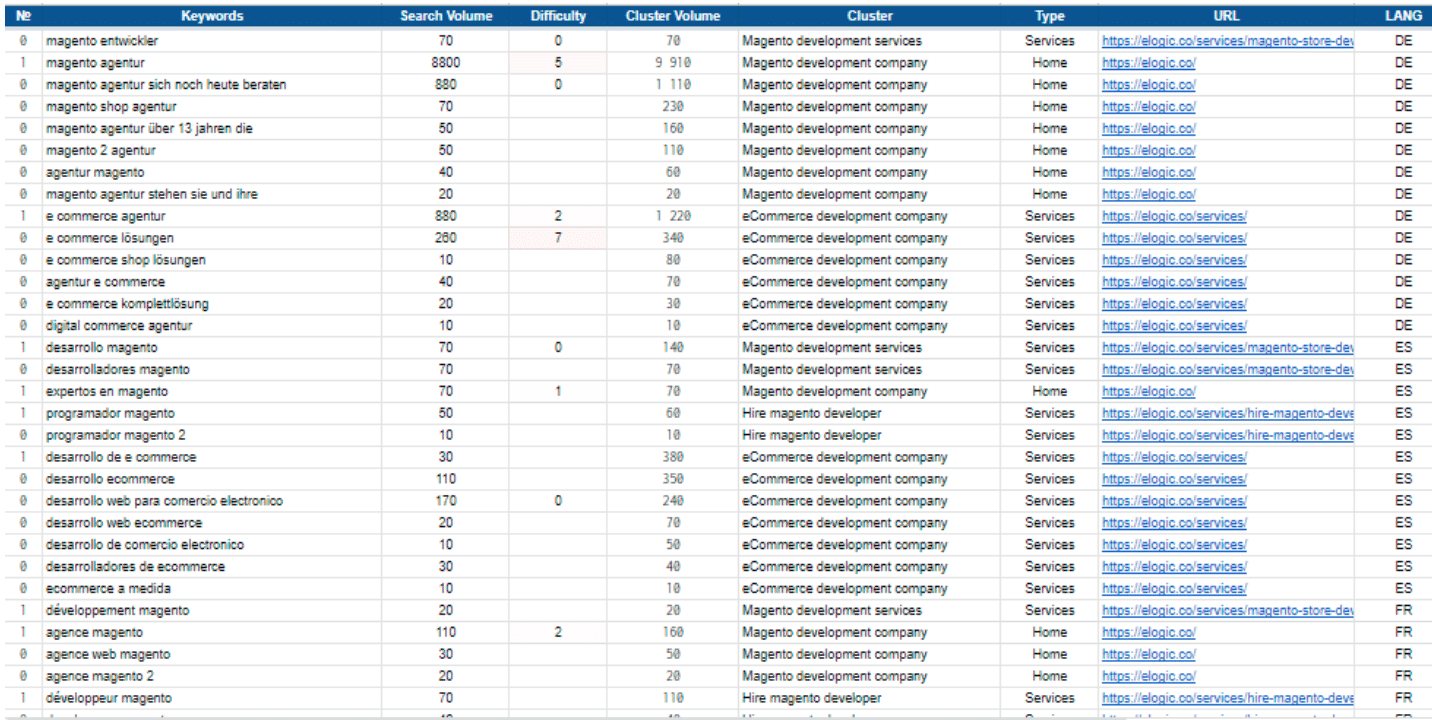 The data we obtained from market research collecting commercial semantics helped us develop the website structure. Now we move considering priorities based on traffic potential, competitiveness, and our link calculation.
Structure report (example):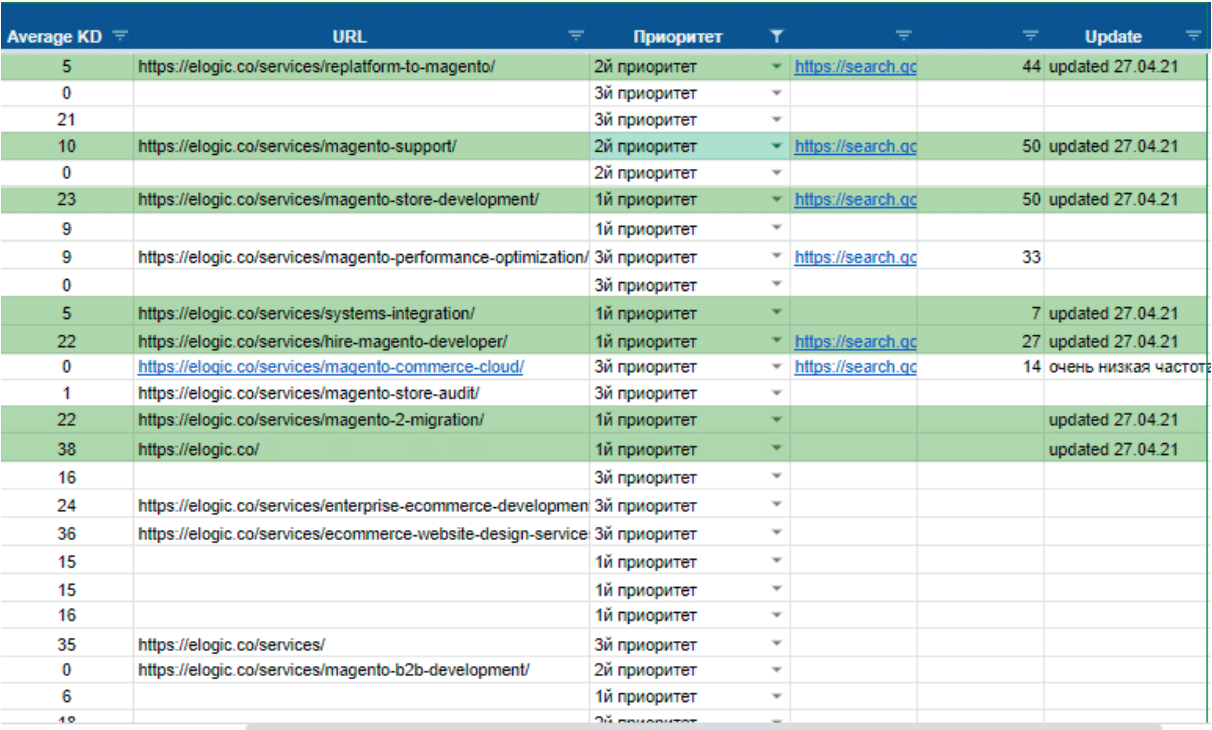 Step 3: Link Building and Fighting Parsers
At the link-building stage, we followed a standard strategy. First of all, we raised drop domains (in fact, these are abandoned websites that have expired or will soon expire) to bring traffic from them to the promoted resource. To do this, we chose thematic pages, set up redirections and embedded links. 
We have an exciting story about link building. Although the situation seemed to us more difficult than interesting at that time 🙂 
How we dealt with the negative influence of parsers
So, we started promotion in April and entered the TOP with many keywords in May, including Hire magento developer, which we will talk about in detail. Our joy of the first successes was not long: in July, the keyword went back to 42nd position… And a month later, it returned to 10th!
Take a look at this:

What happened? 
While providing link building, we involved one of the donors. Soon, low-quality websites began to parse it. And since our article was published on this donor website with a link to Elogic, hundreds of low-quality platforms started to link to the website massively. It was necessary to urgently solve the problem by any possible means to prevent further fluctuations. 
We admit that we could not correct the situation immediately. We first canceled these links in Search Console, but the parsing continued. So we decided to act radically. We contacted the donor and, although we bought the link, we removed it. It gave a positive result: the parsers did not see the link to us when viewing the content.
The position quickly returned to the TOP 10, and we called this case "unpredictable link building" and even developed a detailed action plan for such situations. Alas, it is not always possible to prevent them, but it is possible to neutralize them!
Have you noticed a sharp decline in your website's rankings? Contact us to determine the cause and promptly fix the problem.
See example
The client's desire to promote in several markets determined our next task: to create optimized (and unique) content for all service pages and each location. Considering the number of pages, the manual filling was impractical and unprofitable: we would have to involve a lot of copywriters and spend several months writing texts. 
We decided to use a proven method: to automate content generation, that is, to perform spinning. Spinning means creating a template with interchangeable keywords that fit organically into the context and correspond to the page topic. The texts also contain variables that insert values ​​depending on the region. We developed technical specifications for spinning and defined requirements for texts.
A precise technical specification and adequate requirements helped us achieve the desired result. As an example, here's the metadata and the first section of spinning text for the "Magento development in Los Angeles" page. The texts for the FAQ block were made following the same principle. 
Having automated the service pages content, we moved on to the blog. Due to the industry specifics, the website required expert content. It would emphasize the professionalism of the IT company and attract an audience striving to create or scale their ecommerce business.
To begin with, we identified what converts well in an IT blog, highlighting 3 article types:
We decided to focus on commercial and comparative articles. At that time, it was essential to attract not technology pros but startups that understand the need for an engine but hesitate in their choice. 
The general requirements and prohibitions for blog materials coincide with those we indicated in the spinning section, so we don't repeat it. Keywords and LSIs were defined for each article individually. We took care of all the issues in cooperation with copywriters.
We started our promotion in April, and over several weeks we saw a slow but steady increase in traffic, which intensified in the autumn. We achieved an optimal result in six months: organic traffic grew from 3.5 thousand to 7 thousand.
The keyword situation stabilized at the initial stage (excluding those "Hire magento developer" fluctuations). We managed to bring 46 keywords from commercial semantics to the TOP 10 with a focus on Magento. Moreover, the high-frequency keyword "Magento development company" got the most conversion and hit the TOP 3 search results! Also, out of 149 agreed keywords, 101 entered the TOP 30, which is almost 70%.
Overall, we are leading in almost all commercial semantics, and growth continues.
Promoting a narrow-nic IT project had some challenges, but we managed to overcome them with careful preparation and a flexible strategy. To achieve the result, we followed 5 steps: we researched target markets, delved into commercial semantics, stimulated traffic growth from drops, introduced a new content generation algorithm, and created the foundation for blogging. As a result, it caused a twofold increase in traffic and brought almost all commercial semantics to the TOP.