Who is our client?
The SlovakStudy business is here to assist future students in choosing a promising profession and preparing the necessary documents for university application. Our client takes full responsibility for guiding the student, including negotiating with the selected university, facilitating dormitory reservations, and providing other services to ensure successful entry to universities in Slovakia. With years of experience, SlovakStudy has gained extensive expertise in organizing university entries in the most convenient way possible. If any issues arise, we strive to promptly resolve any problems related to the entry process for future students.
Industry
Education abroad. Educational tourism
Region of promotion
Ukraine
GOAL
To bring to the TOP-1 priority keywords: "обучение в Словакии" ("education in Slovakia"), "учеба в Словакии" ("study in Slovakia"), etc
SERVICE
Search engine optimization
Client's Goals:
Achieve top-priority rankings for relevant keywords.

Increase the number of leads.

Attract a maximum amount of targeted organic traffic.

Increase brand awareness.
Team for Project Implementation
To promote this project within the company, a team was formed comprising the following members:
Project Manager

SEO Team Lead

SEO Expert

Link Builders
Results Achieved
We successfully implemented our strategy quickly, and within just 5 months, organic traffic increased fourfold. The graph below illustrates a comparison of the traffic.

Furthermore, we managed to rank in the top position for our targeted keywords, along with two other important, highly competitive keywords that were a priority for the client. We also achieved top-three rankings for 17 additional keywords. We added eight more to the top five.

We established a positive trend in implementing the strategy for the main page keywords, gradually improving their rankings in search results, which appears natural.

How Did We Build the Website Promotion Process?
We comprehensively analyzed the business website from the technical and content sides to develop an effective promotion strategy.
As a result, we identified the following main areas:
Technical website analysis:

This step is essential before embarking on any project. It involves identifying and addressing any existing critical issues at the beginning of the promotion process and continuously monitoring the site's technical health.

Optimization of site structure and content:

Based on the analysis conducted, we compiled a semantic core that allowed us to adjust the site's structure accordingly. This process helped us identify which pages needed to be created and which required optimization.

Blog:

The blog serves as an additional source of targeted traffic for the website. Therefore, our SEO strategy involved blog development and adding 3-4 traffic-generating articles each month. We organized the workflow: we selected relevant topics for the articles, created a content brief, had a copywriter write the article, reviewed it to ensure it met our recommendations, and then published it. This approach ensures that each blog post delivers maximum value.

Link building:

Building links is a crucial part of SEO promotion, so we proposed a link acquisition strategy and identified relevant platforms for placement. For this particular website, we prioritized educational websites, news sites, local portals, forums, review sites, and social platforms where the target audience (students and their parents) is present.
Competitor Analysis – The Crucial Part of the Work
As David Sarnoff once said, competition brings out the best in products. In any project, our goal is to outperform our competitors.
We identified three main competitors:
go-to-slovakia.com.ua

weststudy.com.ua

postupay.com
By analyzing their metrics, studying their strategies, and reviewing their backlink profiles, page structures, and on-page content, we identified areas for improvement for our client's website and developed a promotion strategy.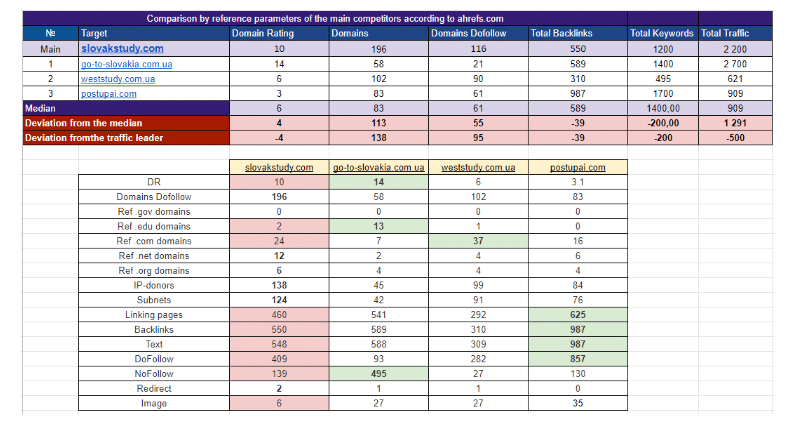 It is important to understand that our client's services market is actively growing. Therefore, we conducted multiple subsequent competitor analyses and consistently discovered new opportunities to enhance the website.
Technical Audit as the Foundation of SEO Strategy
Next, we proceeded with a comprehensive audit. The client already had a website with low traffic. However, this traffic was insufficient to generate the desired number of leads.
An SEO audit involves a detailed website examination for any technical errors hindering its visibility in search engines.
Based on the audit, we developed a technical task with a detailed description of the necessary improvements to be made on the website. Here are some examples:
When the client approached us, their priority queries, such as "education in Slovakia" or "study in Slovakia," led to a blog article, which posed a problem. This situation could occur because the blog article was informative and contained more detailed information about studying than the website's homepage. However, from both the website's structure and the perspective of the buyer's behavior, the article was an unnecessary step in the conversion funnel for attracting actual clients. To redirect the targeted traffic to the homepage, we proposed removing the page with the article and setting up a redirect to the homepage while transferring most of the text from the blog article to the homepage to retain its detailed and well-structured content. This way, we directed the targeted traffic to the homepage and ensured the appropriate keyword alignment across pages.
We identified internal URLs on the website that were returning 3xx status codes (3xx redirects). Such URLs should not exist on the website, as they decrease the website's visibility in search results. We compiled a list of all the pages containing redirects.
Additionally, we identified an issue with generating breadcrumb navigation on the website.
Let's consider the example of a blog article. The breadcrumb navigation for the blog article pages appeared as follows: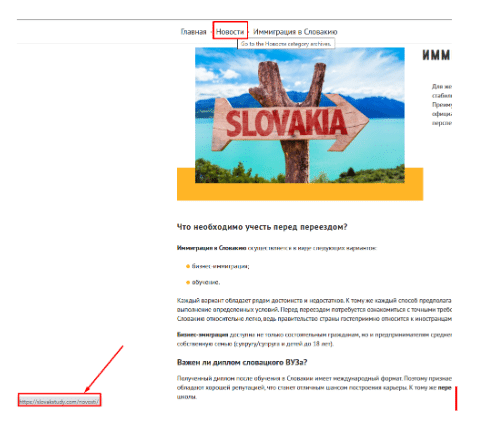 However, for proper functionality, we recommended configuring it as follows:

4. We identified a problem with the website's slow loading speed on desktop and mobile devices.
We tested this metric for different types of pages:
The proposed edits on the verification page needed to be implemented, along with measures to improve the website loading speed.
5. Another important issue was setting up the correct and complete generation of "title," "description," and "h1" tags for university pages and articles. We developed tag-filling templates for the website, which resolved this problem.
6. Another significant step was addressing the issue with reCaptcha.
The homepage displayed an error, preventing potential clients from submitting the form and accessing the service.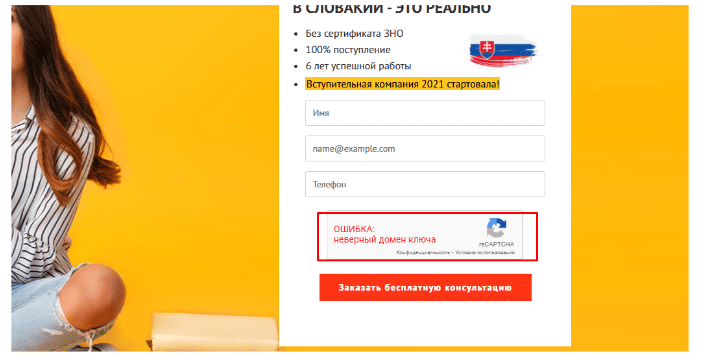 We also identified several secondary and tertiary priority issues for fixes, but we won't delve into them in such detail.
Collecting Semantics
It was necessary to gather the semantic list to proceed with our work.
We evaluated key queries based on the client's priorities, competitiveness, and traffic potential.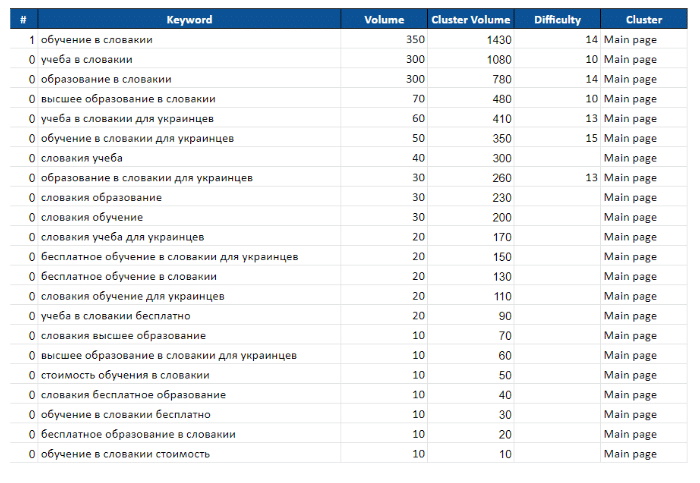 Only by gathering the semantics were we able to create a comprehensive website structure and identify which pages were missing for significant growth in search rankings. Our priorities included the clusters of the homepage, the pages of the universities with which the client cooperates, and the entry page.
During one of our SEO campaigns, there was a drop in rankings for Ukrainian keywords. Upon analyzing the website, we discovered that the Ukrainian version had fallen out of the index, resulting in position and traffic declines. We promptly developed the following strategy:
Forcibly reindex the dropped pages.

Review the technical aspects of website optimization.

Develop an enhanced link-building plan.

Revise the content.
We regularly monitor keyword positions, and if necessary, we adjust our approach to ensure maximum results.
Optimization of Landing Pages
We have thought through the structure and requirements for all pages to eliminate empty and uninformative pages. We noticed a non-hierarchical structure of H2 and H3 tags on many pages, which had to be corrected. We prepared the terms of reference (ToR) for copywriters to improve, systematize, or create new texts for the pages.
When creating ToR, we considered the top search results and conducted an analysis to ensure the inclusion of relevant keywords in future texts for better visibility in search engine rankings.
Additionally, we provided recommendations for creating blocks lacking on the pages and examples of implementation used by competitors. For instance, we suggested displaying a block with other blog articles that would be interesting to the user.
Here is an example of how competitors approached it: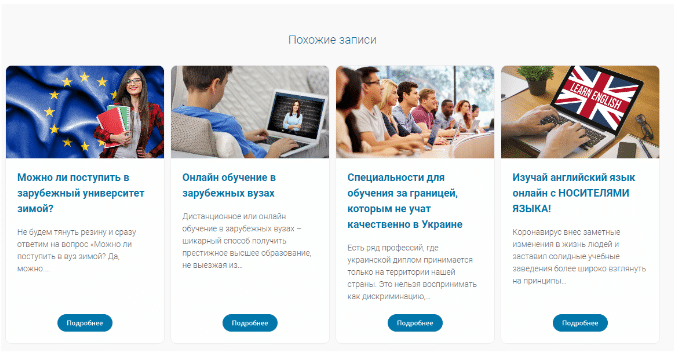 Or like this

This approach made it possible to fill the site with useful information for the user and, in turn, pages with such on-page content began to rank well in search results.
Creating a Link Building Strategy
At this stage of work, we reviewed the performance of our competitors and developed a plan for purchasing links for the fastest and most profitable promotion.

After the client approved our link plan, we began selecting appropriate high-quality platforms for placement. To do this, we compiled a database of links from our competitors and filtered out sites with low traffic and indicators. We then organized communication efforts with these websites, successfully reaching out to some via email while others had to be sought out on exchanges.
Once the anchor plan was developed, we ordered the writing of article texts for link placement and proceeded with the placement process.

For a website to grow organically and not fall under Google's filters, it is not enough to buy only do-follow links on trusted sites. You need to expand your profile with links from crowd-sourced platforms (forums, discussions, comments on resources relevant to education).

This approach positively affects the ranking of website pages in search results and increases traffic. Moreover, it helps us attract many new users to the website who have read the recommendations and followed the links.
Attracting Users to the Blog
Alongside the refinement of the service pages, we boosted our blog. One unique aspect of this project was connecting student life with various aspects of social life in Slovakia. By selecting relevant topics, we noticed that articles about notable landmarks or popular sports in the country generated significant traffic to our website and contributed to brand recognition. These articles were intended to motivate website users to convert and take action.

When we create a ToR for a copywriter, we always give examples of competitors, specify keywords and LSI, and write down the recommended structure and meta tags for developers. This way, we get the most optimized page that converts readers into potential customers.
What Are the Results of the Performed SEO
We managed to implement our strategy quickly, and in April, organic traffic increased 4 times. In the graph below, you can see a comparison of traffic for December and April.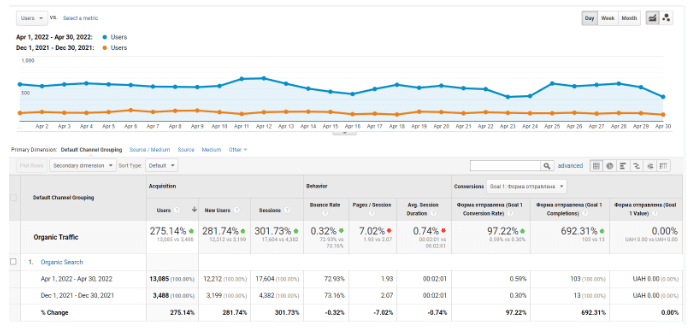 In 5 months, we managed to bring two important, highly competitive keywords that were a priority for the client to the TOP-1, 17 more to the TOP-3, and 8 more to the TOP-5.

We have achieved good results for the main page keywords, and the keywords are gradually rising in the search results.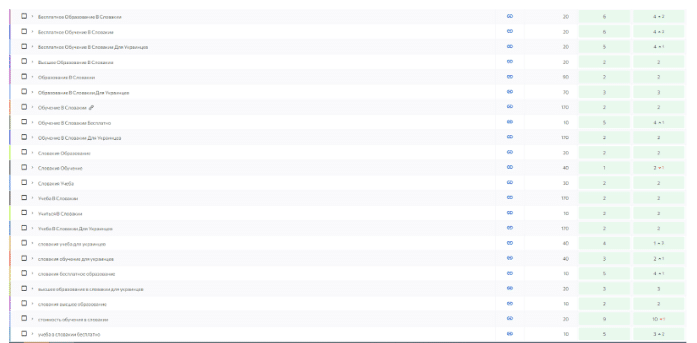 But we are not going to stop at these indicators. We regularly analyze the performance of our website pages and monitor our competitors to understand what other growth points we can find.
Conclusion
Our team is delighted to work on this project because the client aims to benefit as many students as possible. We have successfully resolved technical issues, expanded the structure, and achieved high rankings for numerous search queries, significantly increasing targeted traffic. This is a result of a fruitful and coordinated collaboration between SlovakStudy and the Luxeo team.